TTRM - The World's BEST
Rottweiler Magazine!
SUBSCRIBE
Join the TTRM
world today!
SUBSCRIBE
Dogs featured in TTRM
are showcased on
TTRM Facebook, Twitter,
Pinterest, Instagram!
SUBSCRIBE
TTRM has worldwide circulation!
SUBSCRIBE
TTRM - the world's
information source
for the Rottweiler
SUBSCRIBE
Is TTRM coming
to your house?
SUBSCRIBE
Join the TTRM
Rottweiler family!
SUBSCRIBE
Are you moving?
CONTACT
Send us your new address!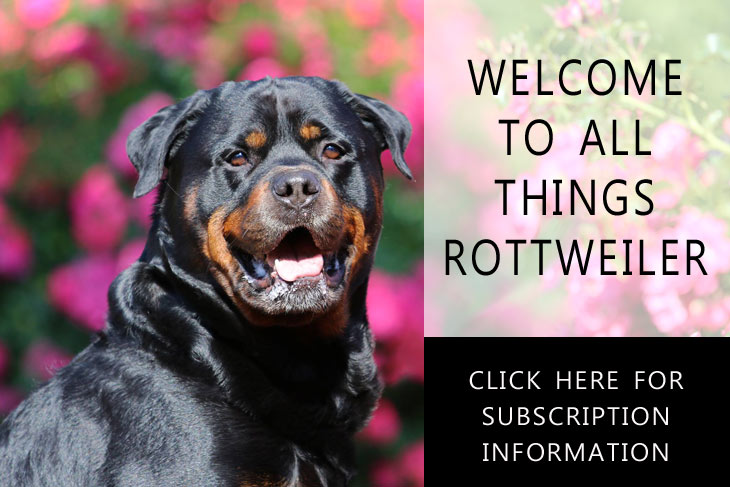 The world`s BEST Rottweiler magazine!
Total Rottweiler Magazine
Friday, June 2nd, 2023 at 5:56pm
This is a video I took of Heizelwood Winter this evening. He turned 11 months old on June 30th. I am free shaping his heeling - ie he has to catch me and when he catches me when he makes eye contact with me, meaning his head is looking up, then I click and reward. I heel around the flower pots because it makes it so if I stop, he is straight and cannot swing his body sideways so he learns to always be straight. I will trial Winter for BH, BST & Ztp March 2024 at the RKNA trial hosted by San Joaquin Rottweiler Klub in California that will be judged by Dr. Prof. Peter Friedrich (ADRK). Winter is really coming along! In the fall, he is enrolled with two local dog obedience clubs. In one class we are in Novice Tricks and in the other class we are in Canine Good Citizen. He is ready to trial now for the first of the Rally titles. On Sundays, he trains schutzhund and he is crazy for bite toys and is coming along nicely.