TTRM - The World's BEST
Rottweiler Magazine!
SUBSCRIBE
Join the TTRM
world today!
SUBSCRIBE
Dogs featured in TTRM
are showcased on
TTRM Facebook, Twitter,
Pinterest, Instagram!
SUBSCRIBE
TTRM has worldwide circulation!
SUBSCRIBE
TTRM - the world's
information source
for the Rottweiler
SUBSCRIBE
Is TTRM coming
to your house?
SUBSCRIBE
Join the TTRM
Rottweiler family!
SUBSCRIBE
Are you moving?
CONTACT
Send us your new address!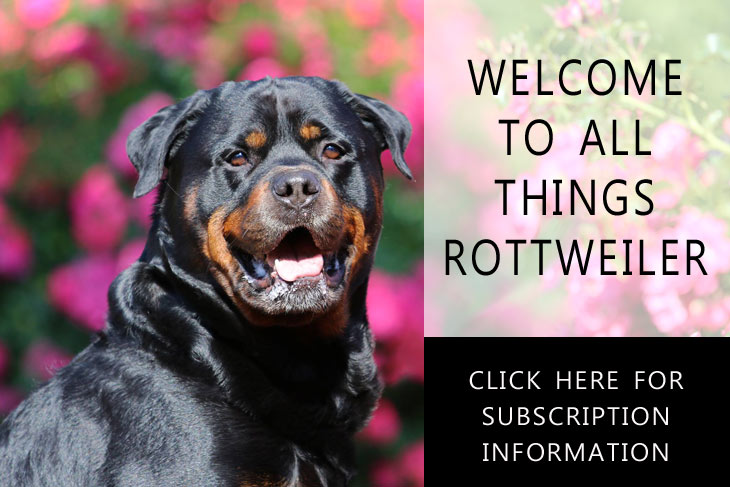 The world`s BEST Rottweiler magazine!
Total Rottweiler Magazine
Thursday, March 30th, 2023 at 9:31am
Lana and Orbit puppies are here!!! Both are ADRK registered!!
4 males & 6 females
Lana vom Kressbach, IGP1, BH, Ztp
HD Frei, ED Frei, JLPP N/N, OFA: Hips Excellent
Dog base numbers: hips 94; elbows 84
Intro vom Königsforst, IPO3, Ztp, VDH-Dt. CH
x
Quitta vom Kressbach, IPO1, Ztp
Orbit vom Brandauerweg
IGP3, BH, AD, Ztp, Multi V1, CAC pointed, RKNA Champion, German CH pointed
HD Frei, ED Frei, JLPP N/N, Augen-Herz certified clear; eyes clear, heart clear
OFA: Hips Excellent, Elbows Normal, Heart Clear, Patella Clear
Vitus vom Hause Neubrand, IGP3, FH2, BH, AD, Ztp, Gekört, ADRK KS 2018, Multi V1, VDH-ADRK CH
x
Hexe vom Brandauerweg, IGP1, BH, Ztp, V2 Rated
Copperridge Kennel
Steve & Melissa Ferreira
Brooksville, Florida
copperridgekennel
@gmail
.com
1-813-245-9580
Translation by Oliver Neubrand on ADRK Ztp on Lana's critique
Large, powerful, compact with correct substance and fitting bone substance.Powerful head with strong expression. Small ears. Dark Brown eyes. Pronounced - wide and strong zygomatic arch. Lips and inside pigmentation correct. Very well muscled neck. Wide very well formed chest. Correct front. While standing correct top line. Very nice underline. Back end strong and pronounced. Muscled. Correct and healthy coat. Red brown markings. Tail of correct length, very well carried. Attentive with very good temperament. Free floating movement.
Judge: Edgar Hellmann
Magazines mailed from the printer are mailed from a mailing house so have a special mailing rate that is far below regular postage rates. This special discounted mailing rate is only available at the time the magazine is printed. After a print date, magazines are shipped using USA postal service, air mail. Magazines are $20 + shipping. All issues are available on digital.
Let us showcase your dogs and your kennels! Our specialty is building brands for dogs and kennels and we offer world wide exposure. Contact us today for advertising opportunities. Payment plans are available. We offer packages to suit most budgets.
Our articles are written by experienced individuals in the area they are writing about. We publish articles on Service Rottweilers, K9′s, carting, agility, herding, CKC/AKC advanced titles, health, training – everything connected to the Rottweiler. Visit our articles' page to download some previously published articles.
We are an international Rottweiler Magazine with world wide circulation. The focus of the Magazine is to be a resource tool that readers can utilize for work, show and information on the breed.