TTRM - The World's BEST
Rottweiler Magazine!
SUBSCRIBE
Join the TTRM
world today!
SUBSCRIBE
Dogs featured in TTRM
are showcased on
TTRM Facebook, Twitter,
Pinterest, Instagram!
SUBSCRIBE
TTRM has worldwide circulation!
SUBSCRIBE
TTRM - the world's
information source
for the Rottweiler
SUBSCRIBE
Is TTRM coming
to your house?
SUBSCRIBE
Join the TTRM
Rottweiler family!
SUBSCRIBE
Are you moving?
CONTACT
Send us your new address!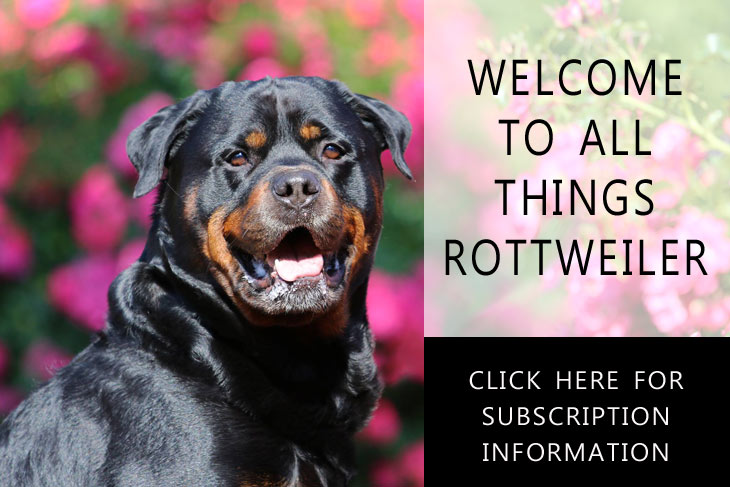 The world`s BEST Rottweiler magazine!
Total Rottweiler Magazine
Thursday, September 28th, 2023 at 8:01am
Available at Stud!
Fresh & frozen semen available
Leroy vom Räuberweg, IGP2, BH, Ztp
7x V1 Rated, VDH German Champion
Zarjo vom Kümmelsee x Viona vom Räuberweg
Eskin vom Blauen Stahl, IPO3, BH, AD, Ztp
2017 ADRK World Sieger + BOB
VDH Europe Sieger + BOB
2017 Austria Klub Sieger + BOB
2017 Bondensee Sieger + BOB
Raul von der Südpfalz x Ida von der Tonberger Höhe
Frozen semen available:
Luis vom Brandauerweg
Glenn vom Blauen Stahl
Duke von der Scherau
Vitus vom Hause Neubrand
Owned by John & Louise Odom
Vom Hause Odom's Rottweilers
Ft. Pierce, Florida
1-772-465-4495
ljo528
@aol
.com
Design: Suski Tuominen