TTRM - The World's BEST
Rottweiler Magazine!
SUBSCRIBE
Join the TTRM
world today!
SUBSCRIBE
Dogs featured in TTRM
are showcased on
TTRM Facebook, Twitter,
Pinterest, Instagram!
SUBSCRIBE
TTRM has worldwide circulation!
SUBSCRIBE
TTRM - the world's
information source
for the Rottweiler
SUBSCRIBE
Is TTRM coming
to your house?
SUBSCRIBE
Join the TTRM
Rottweiler family!
SUBSCRIBE
Are you moving?
CONTACT
Send us your new address!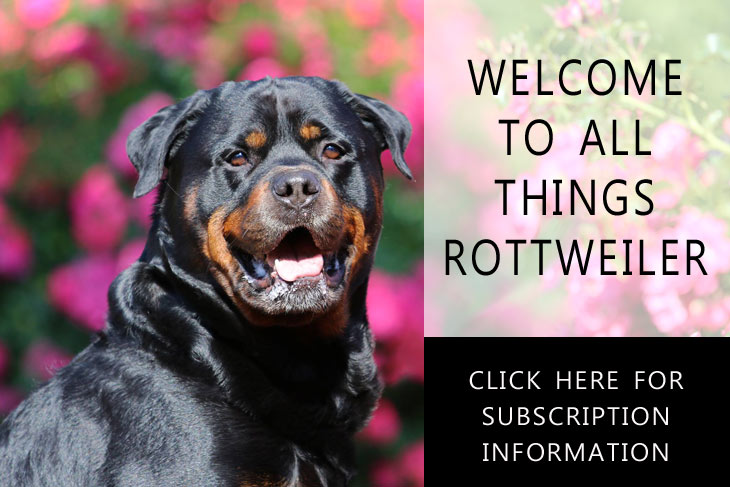 The world`s BEST Rottweiler magazine!
Total Rottweiler Magazine
Friday, December 2nd, 2022 at 5:29am
AVAILABLE AT STUD
fresh & frozen semen
Eskin vom Blauen Stahl, IPO3, BH, AD, Ztp, Multi Sieger, Multi BOB
2017 ADRK World Seiger & BOB
HD Frei, ED+/-, JLPP N/m
Raul von der Südpfalz x Ida...

Release Date: December 2022
Magazines mailed from the printer are mailed from a mailing house so have a special mailing rate that is far below regular postage rates. This special discounted mailing rate is only available at the time the magazine is printed. After a print date, magazines are shipped using USA postal service, air mail. Magazines are $20 + shipping. All issues are available on digital.
Let us showcase your dogs and your kennels! Our specialty is building brands for dogs and kennels and we offer world wide exposure. Contact us today for advertising opportunities. Payment plans are available. We offer packages to suit most budgets.
Our articles are written by experienced individuals in the area they are writing about. We publish articles on Service Rottweilers, K9′s, carting, agility, herding, CKC/AKC advanced titles, health, training – everything connected to the Rottweiler. Visit our articles' page to download some previously published articles.
We are an international Rottweiler Magazine with world wide circulation. The focus of the Magazine is to be a resource tool that readers can utilize for work, show and information on the breed.