Contact us to reserve a cover!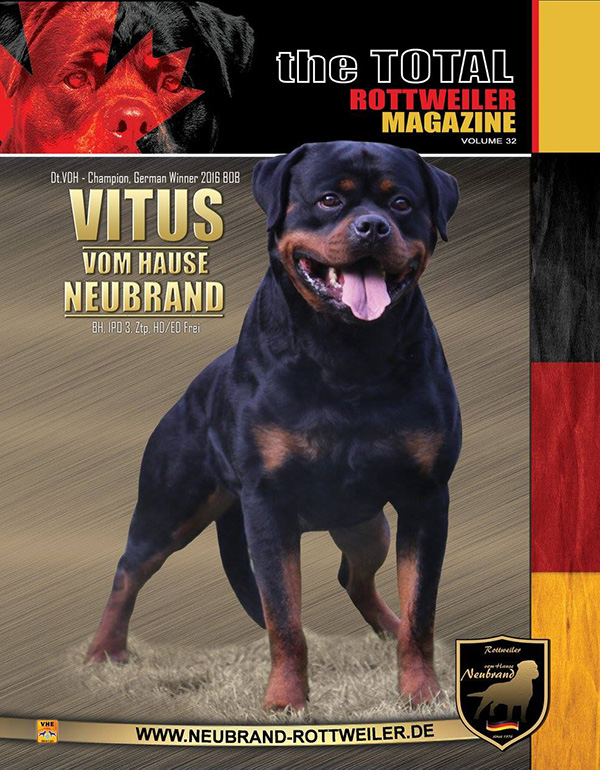 TTRM Volume #32 – AVAILABLE NOW
Don't miss one Issue
Don't miss one Issue Magazines mailed from the printer have a special mailing rate that is far below regular postage rates. This special discounted mailing rate is only available at the time the magazine is printed.
Start to Subscribe
Let's talk to the world
Ads are a perfect way to let Rottweiler lovers know about your special dog or business. Share your pictures or service with Rottweiler enthusiasts all over the world. Contact us for more options!
Start Advertising
Articles written by experts
Our articles are written by experienced individuals in the area they are writing about. We also publish articles on Service Rottweilers, K9′s, carting, agility, herding, CKC/AKC advanced titles – all working dog titles.
Start Reading
Read it every where!
Magazines are available as a download! As soon as your payment is complete, you will receive your automatic download link that is valid for 13 days after purchase to your ip address you order from.
Who are we?
We are an international Rottweiler Magazine with world wide circulation. The focus of the Magazine is to be a resource tool readers can utilize for work, show and information on the breed.
The world`s BEST Rottweiler magazine!
Total Rottweiler Magazine shared Jane Mitchelmore's post.
Friday, May 12th, 2017 at 6:03pm
Jane
If law is successful and passes in Quebec, the Rottweiler will not be allowed to be imported into the province of Quebec, 2nd largest province in Canada with the bulk of our population. All existing Rottweilers must be steralized. If you travel through Quebec with your Rottweiler, they can take that dog from you and you will never see it again and they can use it for experimental purposes.

This is what Bill 128 is.

My last post was on BSL and a lot of reading. What does BSL mean? I was going to make an ad and then thought...I cannot...it takes away from what is important. People will not see what is lost.

So I took a picture and isolated the background.

This is what BSL =

If BSL passes in Quebec, a pup such as this cannot go to any home in Quebec - second largest province in Canada and once voting in Ontario and Quebec finished it does not matter what the rest of Canada thinks as they have all the votes as they have the majority of population.

They are trying to ban the Rottweiler. Canada needs help. As a member of RKNA, I have asked and received support from RKNA for RKNA to get involved to try stop this law.

Help us please. It does not matter what country. Please contact Barbara Lloyd and get directions on her on who to write to and what to write.

So that Canadians can import puppies such as this. The vast majority of Rottweilers in Canada are imported. My club is a good example. We have maybe 3 or 4 native Canadian Rottweilers in our club and probably 18+ imports.

When Rottweilers are banned, there is no breeding or importing.

The breed is not allowed. Pick a different breed. Or move.

That is what BSL is.