Contact us to reserve a cover!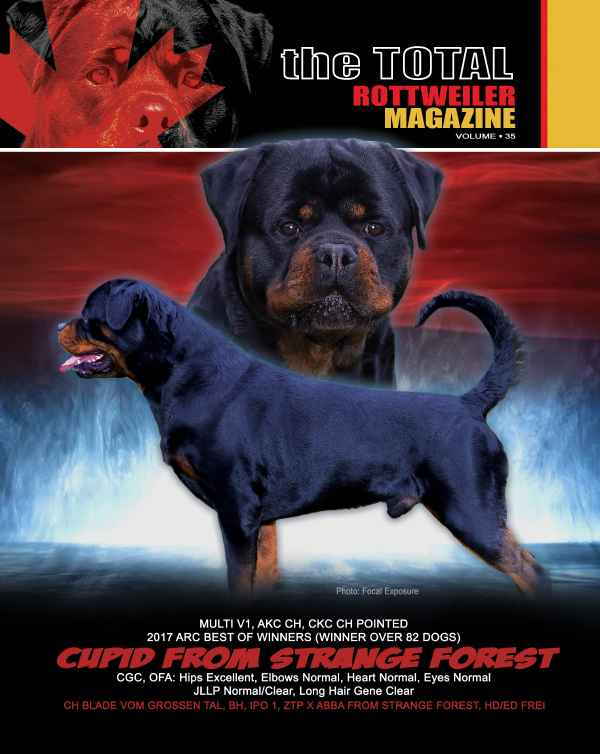 TTRM #35 – Released February!
Don't miss one Issue
Don't miss one Issue Magazines mailed from the printer have a special mailing rate that is far below regular postage rates. This special discounted mailing rate is only available at the time the magazine is printed.
Start to Subscribe
Let's talk to the world
Ads are a perfect way to let Rottweiler lovers know about your special dog or business. Share your pictures or service with Rottweiler enthusiasts all over the world. Contact us for more options!
Start Advertising
Articles written by experts
Our articles are written by experienced individuals in the area they are writing about. We also publish articles on Service Rottweilers, K9′s, carting, agility, herding, CKC/AKC advanced titles – all working dog titles.
Start Reading
Read it every where!
Magazines are available as a download! As soon as your payment is complete, you will receive your automatic download link that is valid for 13 days after purchase to your ip address you order from.
Who are we?
We are an international Rottweiler Magazine with world wide circulation. The focus of the Magazine is to be a resource tool readers can utilize for work, show and information on the breed.
The world`s BEST Rottweiler magazine!
Total Rottweiler Magazine shared Jane Mitchelmore's post.
Thursday, April 12th, 2018 at 5:56pm
Jane
Wendi Lewellen sent me a message last evening to say she just had to say goodbye to Pilot. He had been quite sick for a couple of months and I believe he was 9 or 10. She gave me permission to let people know. The Rottweiler world has lost an incredible Rottweiler, one of the best ever Rottweilers in USA. I am so very sorry Wendi for your loss. Such an amazing dog and in his prime he was unbeatable coming in
#1
AKC and winning BOB at Westminister. Pilot's main AKC handler was Perry Payson.
I think Pilot was one of the most beautiful Rottweilers of all time. Following are some photos of Pilot & ads that the magazine has published over the years on Pilot.